Jan 02, 2001
Disney's Grand Californian Hotel Opens at Disneyland Resort
The first hotel to ever be located inside a Disney theme park is no ordinary hotel… it's grand! On this day in 2001, Disney's Grand Californian Hotel opened its golden gates for the first time, allowing guests to stay within Disney's California Adventure park. Although guests could enjoy the adventure of Disneyland park, California Adventure was not yet open, nor was Downtown Disney District for another ten days. On February 8th, Disney's California Adventure held its grand opening, along with the official grand opening of the Grand Californian Hotel, allowing Guests to have a grand experience at the newly expanded Disneyland Resort.
1937
Disney's Mickey Mouse film
The Worm Turns
- featuring the voices of
Walt Disney
as Mickey and Billy Bletcher as the dog catcher - is released.
1938
Conductor
Leopold Stokowski
arrives in Los Angeles for a session for Disney's
The Sorcerer's Apprentice
.
1977
At Disneyland's Frontierland, the
Mine Train Through Nature's Wonderland
attraction closes. (It will later be replaced by Big Thunder Mountain.)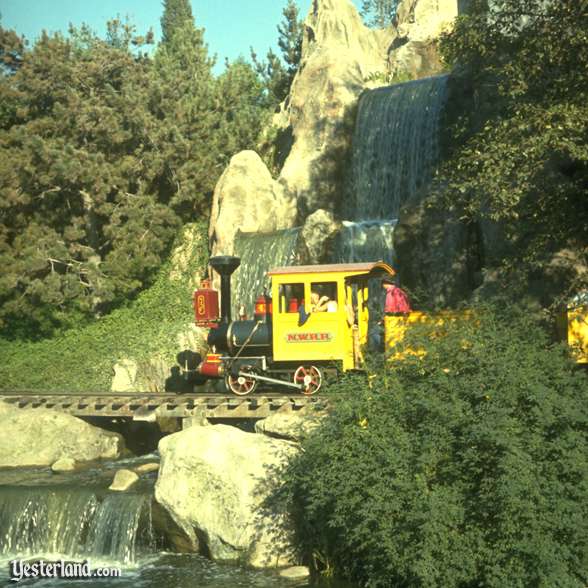 1979
Disney World's
Dumbo's Circus Parade
kicks off down Main Street, USA.
(January 2, 1979 - December 21, 1979). he parade featured "colorful costumes, comical ballerinas, a circus train, floats, ringmaster Mickey Mouse and Dumbo himself."
1984
The
Astuter Computer Revue
, a show in EPCOT Center's
CommuniCore
East, closes. The attraction took place on a second-floor terraced theater that overlooked a large room housing some of the computers used to operate the park. It was hosted by a projected host who sang and danced his way across computer banks in the foreground of the room in an attempt to explain the role of computers at Walt Disney World. The Astuter Computer Revue will be the first attraction ever to be removed from EPCOT. It will be replaced in February 1984 by Backstage Magic.
CLICK HERE
to hear the whole Astuter Computer Revue "live"
1996
Today is
World of Motion
's final day of operation at Epcot. An opening day attraction, visitors traveled on Omniover vehicles through humorous technology-themed scenes. (Test Track will eventually take its place.)
2001
Disney unveils its
Grand Californian Hotel
, offering a few hundred guests a preview of the high-end rooms and service the company hopes will transform the updated Anaheim vacation spot. The hotel is the first in the U.S. to be located inside a Disney theme park. The Grand Californian Hotel features 2 full-service restaurants (Storytellers Cafe and Napa Rose) and a snack bar (Whitewater Snacks). Although its grand opening will be in February, the first paying guests are welcomed on this day.
2005
Effective this day, all current Walt Disney World admission media will now require ticket tag finger scans.
2006
In observance with the
Tournament of Roses
"Never on Sunday" tradition, the 117th Rose Parade in Pasadena, California takes place on a Monday. Disney takes part in the event with a float featuring recreations of all 5 castles from each of its theme parks.
2009
Opening night of "
Disney on Ice: 100 Years of Magic
" begins at 7 p.m. at the First Arena in Elmira, New York.
2010
The St. Louis Symphony Orchestra performs a concert of symphonic arrangements from the Walt Disney Studio archives at Powell Symphony Hall in Grand Center. The concert is synchronized with images from such Disney classics as The Lion King, Beauty and the Beast, Mary Poppins and Tarzan.
It is reported that The United Way of Palm Beach County, Florida is offering a program in which volunteers can earn a day at a Disney park.