1922
Twenty-year-old Walt Disney begins work at his own cartoon company called Laugh-O-Gram Films in Kansas City, Missouri. He will produce one-reel animated versions of 6 fairy tales, each lasting just one minute. Walt had felt that Kansas City theaters - which featured cartoons made by studios on the east coast - might be willing to buy some from a local company. He created a few and brought them to the Newman Theater. In order to clinch the deal, Walt calls them ... "Newman's Laugh-O-Grams." He will incorporate Laugh-O-gram Films in May of 1922 with $15,000 from backers. (These cartoons will be regarded as Walt's first professional effort in the field of animation.)
1928
Distributor Charles Mintz signs a new three-year agreement with Universal Pictures to provide Oswald cartoons (which are being created by the Disney Studios).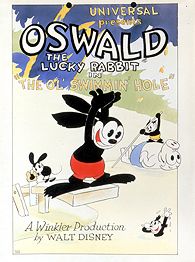 1950
The cover of this day's issue of Western Family magazine features Mickey and Minnie Mouse smooching through a giant valentine. The illustration is the work of Hank Porter (originally a staff artist at the Disney Publicity Art Department).
1953
Walt Disney signs a licensing deal with Mitchell Gertz for rights to produce a Zorro TV series. In 1950, Zorro creator Johnston McCulley assigned the film and television rights to Gertz, a Hollywood agent. Gertz had been trying for several years to find the financing to produce the series.
1967
Roy Disney outlines his late brother's plan to build a theme park and the world's first futuristic metropolis, or EPCOT, when Disney Productions announces it will build the world's first glass-domed city in central Florida.
The movie presentation, narrated by Walt Disney, who past December 15, 1966, is termed by officials as "Walt's last film." Project Florida A Whole New Disney World premieres at the Park East Theater in Winter Park, Florida at 2:00 PM, where it is screened for business and government figures. The 25-minute film shows a 50-acre, air conditioned "city of tomorrow" centered in a 1,000-acre industrial park between Orlando and Kissimmee.
"

Our corporation is dedicated to making Walt Disney's dream a reality, but it cannot be done without the help of you people here in Florida.

"

-Roy O. Disney
1992
The first phase of Disney World's Dixie Landings Resort (Alligator Bayou section) opens at 1251 Dixie Drive, Lake Buena Vista. Alligator Bayou consists of 1,024 guest rooms over 16 buildings styled as rustic, weathered lodges with 64 rooms per lodge. Located in the Downtown Disney resort area, Dixie Landings is themed after the Louisiana Countryside. It includes the Boatwright's Dining Hall (a full service, 208-seat table service restaurant themed to a wooden shipbuilding yard) and Fulton's General Store. (Today the resort is known as Disney's Port Orleans Resort.)
2006
Disney announces that the Disneyland and Disney World Pirates of the Caribbean attractions will be undergoing a 3-4 month makeover to work in character and plot elements from the movie series that took its inspiration from the original attraction.
2010
A Baby White-Cheeked Gibbon is born at Disney's Animal Kingdom. The fourth gibbon born at DAK (as part of the Association of Zoos and Aquariums Species Survival Plan); the yet-to-be named male won't be presented to the public until later in the month.