Mar 21, 1975
Mission to Mars opens at Disneyland
By 1975, it had been three years since astronauts had walked on the moon, and the Flight to the Moon attraction, which opened at Disneyland in 1955, needed a more distant itinerary. Mission to Mars opened that year in the place of Flight to the Moon, with the Audio-Animatronics® figure of Mr. Johnson serving as host. Each of his lectures was interrupted by the bleating of an alarm caused by the crash landing of a large bird near the spacecraft launch pad (the footage was taken from a True-Life Adventure Series film).
TIME magazine runs an article about Disney's plans for a $650 million American-history-and-entertainment park, called Disney's America.

The hills and fields around Manassas, Virginia, have felt the boot of foreign forces before. But the latest intruder, the Walt Disney Co., may leave a mark more lasting than any Yankee heel: a $650 million American-history-and- entertainment park, called Disney's America, situated on 3,000 acres in the history-rich country 35 miles west of Washington.

Despite a formidable array of opponents, the project moved ahead last Saturday when the expiring session of the Virginia general assembly approved a $163 million package of incentives for roads, highway signs, worker training and tourism promotion designed to entice embattled Disney to stay in the...

Disneyland unveils its long-awaited plans to renovate Tomorrowland. They include replacing the slow PeopleMover with a faster new attraction, Rocket Rods. The extensive project is due for completion in Spring 1998.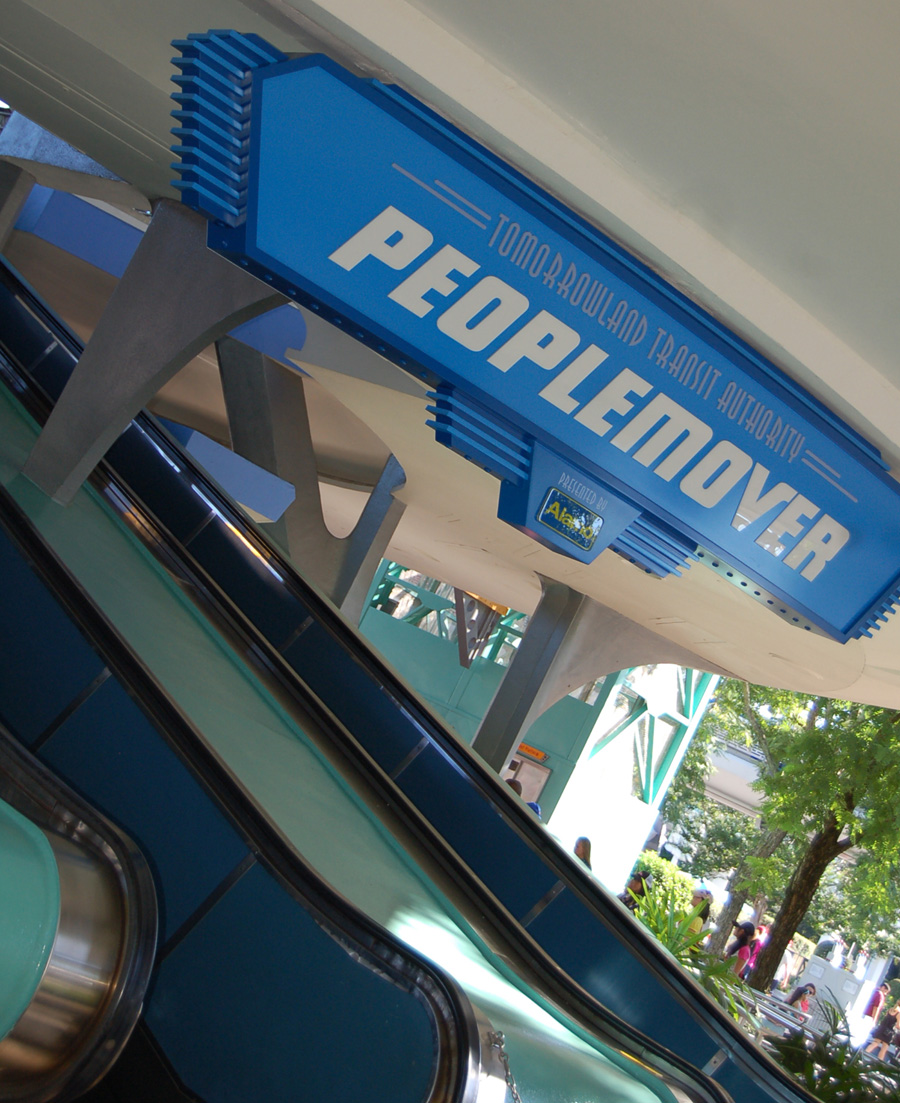 The Disney crew was tired of Tomorrowland. Most of its attractions were only there to sponsor companies such as Monsanto, and not even the 1959 expansion helped very much. Instead of having another expansion, the crew decided to start from scratch, and made the new Tomorrowland. Walt Disney died in December 1966, almost seven months before the new Tomorrowland would open. In 1967, the area was completely rebuilt with new attractions and scenery. The original layout was demolished, and a new set of buildings were erected. The addition of the Carousel of Progress, Adventure Thru Inner Space, an improved and larger Circle-Vision auditorium, Flight to the Moon, and the PeopleMover helped give Tomorrowland its "World on the Move" theme. In 1973, "The World On The Move" began to change.

General Electric decided to close Carousel of Progress, which would later reopen at a new home in Walt Disney World in 1975 as part of its expansion. In 1974, with the American Bicentennial approaching, Disney designers seized the opportunity of the vacant carousel theater to present a large musical extravaganza called America Sings, which featured 114 Audio Animatronics. The following year, Flight to the Moon was updated into Mission to Mars, as actual flights to the moon had become a reality since the former's construction.

Then, in 1975, construction began on Walt Disney's proposed 1965 "Space Port." In May 1977, this project opened to the public as Space Mountain. The same year, the Super Speed Tunnel was added as part of the Peoplemover experience, as the Epcot model that was formerly in the building moved to Florida. In 1984 Circle-Vision 360 received a brand new travelogue of the United States, to replace the aging "America The Beautiful" film – American Journeys. Two years later, two new attractions found homes in Tomorrowland: Star Tours and Captain EO. Captain EO replaced the Space Stage in September 1986, and Star Tours replaced Adventure Thru Inner Space in January 1987. Tomorrowland then remained largely unchanged for much of the following decade, until the land was again redone in 1998.

During the mid to late 1990s Tomorrowland Terrace (TLT)-Tomorrowland's most popular outdoor restaurant-became a fashionable spot for many local Southern California teenagers. Discounted annual passports for Southern California residents, and the remarkable success of No Doubt's "Tragic Kingdom" album which made several references to the Disneyland Park as a whole, caused Orange County locals to pour into Tomorrowland every Friday and Saturday night. Unfortunately for Disneyland, this caused an increase in harassment of tourists and petty crimes which forced them to increase security, culminating in 1996 with several separate gangs of Disneyland locals, led by a "goth" style gang known as the "Disneyland Arcane Crew (D.A.C.)", and locals numbers in excess of several hundred packed into Tomorrowland's space. This trend however, died out around 1998 when Tomorrowland was closed for renovation, and one of the greatest changes in Disneyland since about 40 years ago happened.
1997
The fifth and final weekend of the very first Star Wars Weekends takes place at Disney-MGM Studios.
Star Wars Weekends is a festival generally held annually at the Disney's Hollywood Studios theme park at the Walt Disney World Resort. Included with park admission, the event typically occurs on Friday, Saturday and Sunday for four consecutive weekends in May and June and features appearances by actors and crew members from the George Lucas science-fantasy saga. Many Disney characters also appear dressed as Star Wars characters, such as Jedi Mickey, Minnie as Leia, Donald as a Stormtrooper and Goofy as Darth Vader. The festival began in 1997 and has been held in 2000, 2001, and annually since 2003.
2003
Columnist Mike Thomas describes his trip to the Magic Kingdom to escape the current realities of war in an Orlando Sentinel article titled "Ta-da! Disney's magic makes war disappear."
There are dozens of bagels piled on top of the newsroom filing cabinet.

It's an old journalistic tradition.

When everything is going to hell -- free food all around! We've been eating well the past year and a half.

The newsroom is ringed by televisions. Various analysts are discussing if shock and awe actually has begun or if this is pre shock and awe.

Giving TV news a phrase like shock and awe is like giving a pit bull puppy a leather chew toy.
I have had enough.

I'm going to Walt Disney World.

There is no traffic jam on the way -- not a good omen for Disney. As I hop on the paddleboat to the Magic Kingdom, Chip and Dale disembark. Two children giggle. Little do they know that Chip is John Ashcroft.

He's keeping an eye on Aladdin and Jasmine.

The eeriest experience I had after 9-11 was walking into Space Mountain and being alone in the darkness as I walked to the launch center.

That is nowhere near the case today. Main Street is bustling, if not mobbed. The line for Space Mountain extends out of the building and stretches 100 yards.

But where I take the pulse of the Central Florida economy is at Winnie the Pooh. I have ridden Winnie the Pooh approximately 300 times in the past three years and now know just how long the wait should be at what time of year. If there is no line at Winnie the Pooh during spring break, sell your Disney stock.

The line is 45 minutes. That is worth at least a hold rating.

The line to get a Mickey ice cream sandwich is 10 minutes. I sit on the bench and begin licking between his ears.

And then I realize the genius of Disney. There is no war here. That's because there are no televisions, no radios and no newspapers. Citizens in Baghdad have more access to news.

The scenes are familiar and comforting.

Two kids fight over a Magic Kingdom map. A mom yells at her boy to walk faster. A dad tells his family to sit tight while he goes in search of food.

I listen in on dozens of different conversations and never hear the word war.

It's like Tinker Bell sprinkled her pixie dust and we've all been transported to Never Land.
Make that Tomorrowland.

"Hi there, Tomorrowland travelers," says an amplified voice from overhead. "This is Mr. Johnson. Everything is perfect on the Tomorrowland superhighway."

And so it is.

Despite its designation as a potential terrorist target, there are no fears of WMD at WDW.

The only weapons of mass destruction I see are smoked turkey legs the size of Scuds.

I talk to Tom Ruth, a West Palm Beach teacher, for 15 minutes and the only Bush who comes up in the conversation is Jeb.

Finally, I mention Iraq.

"I was watching TV last night and they were interviewing the British undersecretary of war materials," Tom says sarcastically. "It's the perfect time to be on vacation."

My vacation is over.

I get back in the car, turn on the radio and listen to an ABC correspondent compare the size of various smoke plumes rising from Baghdad.

But it's not shock and awe yet.

Back at the office, a box of doughnuts sits on the filing cabinet.